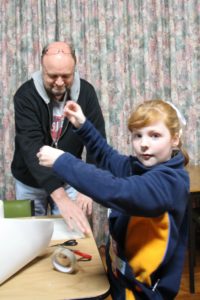 On Thursday night, October 27th, the Delacombe Junior Girl Guides celebrated World Teacher's Day by inviting their school teachers to join them at a special annual Girl Guide activity. The girls thanked their teachers for the time and effort they put into organising classes and excursions.
The Guides and their teachers spent the night doing activities together. They made edible Guiding Lights, played mind-games, worked together to decipher lateral thinking messages, played noodle hockey and ate cupcakes. The girls made a uniform sash for their teachers and pinned on a special badge. They enjoyed making gifts the week before and presented these to their teachers on the night.
I accompanied one of my students on the night (It is the third year I've done that) and it was a terrific evening.